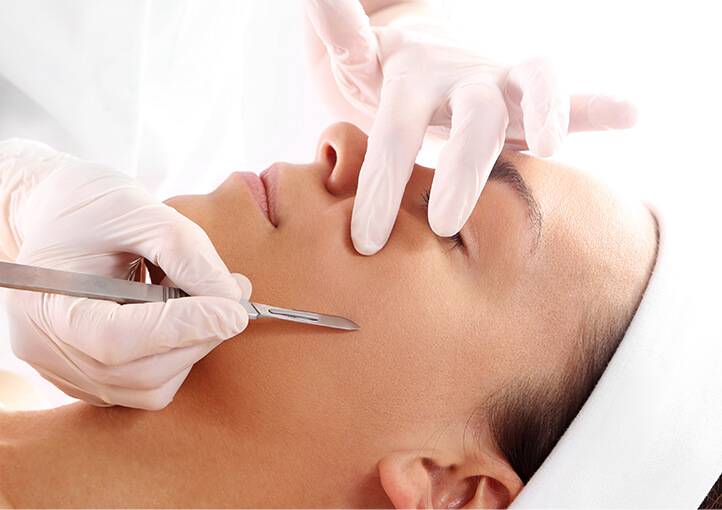 Intensive Exfoliation Treatments
Exfoliating Skin Peels
Skiin offers a wide range of skin peels to exfoliate your skin. During your skin-care consultation, one of our licensed skin health professionals will evaluate the condition of your skin and recommend a regimen customized to your specific needs.
Youth Boost Add-On
Youth boost is a clinical approach to glowing skin and is great for guests on the run. Skin nutrition at its best using probiotics that gently exfoliate, firm and lift your skin. It is a great add-on to most of our skincare services.;
Microderm Exfoliation Procedure
Gently and effectively resurface the skin with the diamond chip encrusted wand. Microdermabrasion treatments work well to Rejuvenize the skin on the face and neck, as well as the chest, arms and hands. Overall skin texture and tone is improved, while surface pigmentation is decreased.
Dermaplaning Exfoliation for Dead Skin
Dermaplanning is a simple and safe procedure for exfoliating the epidermis and ridding the dead skin cells. Our gentle services produce immediate results of even skin texture and tone without using any surgery and anesthetic.
PRP
PRP injections are known to improve the overall texture, tone and quality of your skin. We use your own plasma and gently lay a micro pen over scars, stretch marks and fine lines to revitalize your skin. Our nurse draws a small amount of blood and places it in a sanitized centrifuge that separates the red blood cells from the valuable plasma serum also known as "liquid gold" then applies it to your skin topically.
Microneedling
A device with fine needles creates tiny micro-channels in the top layer of the skin, which triggers the body to create new collagen and elastin. Microneedling can improve the texture and firmness of the skin, as well as reduce scars, pore size, and stretch marks. Combined with a topical treatment, like PRP or another vitamin-rich serum will produce even greater results. It is recommended to exfoliate 5 to 7 days after skin microneedling.
Service Pairings
All of our services can be paired with another to gain additional benefits. Timelines are set between services for the best results. Consult our experts to customize your beauty plan to bring radiance and balance to your skin.
Why choose Skiin?
Follows all CDC guidelines being committed to your safety
Most experienced skin health experts in the industry
Committed to continuous education with some of the worlds finest doctors
Recipient of Medical Aesthetics magazine as the best loyalty program
Board-certified plastic surgeon on-premise