Real Hydrafacial Results

Waukesha Professional Restoration Treatment for Hair Loss
Skiin Anti-Aging Lounge is committed to bringing you the best hair loss treatments available. We specialize in providing Platelet-Rich Plasma (PRP) therapy to treat hair loss for both men and women.
What is PRP Therapy for Hair Loss?
PRP therapy for hair loss uses your own plasma to restore your hair's natural growth process. First, we gently collect your blood samples and place them in our processor to extract your platelet-rich plasma. Then, we inject your plasma back into your scalp to promote blood flow and stimulate your hair follicles to restore your hair's growth process.
PRP hair treatment is successful in over 70% of people experiencing hair loss, so why not give it a try? Don't let your confidence suffer from hair loss any longer- experience the difference PRP hair restoration treatment can make for you! an Anti-Wrinkle Botox Competitor
The FDA has approved Daxxify by Revance, a new injectable medicine for smoothing facial wrinkles in adults. Daxxify is in the same class of medicines as Botox, Dysport, Xeomin, and Jeuveau, but may be more effective in reducing wrinkles for longer periods of time. In clinical trials, 80% of participants had little or no visible facial wrinkles after four months of using Daxxify, and half still had little evidence of wrinkles after six months. Dermatologists believe Daxxify will change the market for neuromodulators.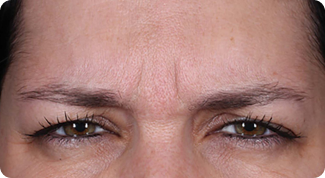 Before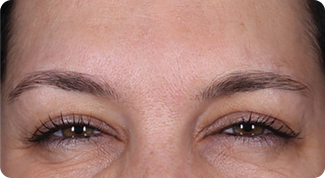 2 Weeks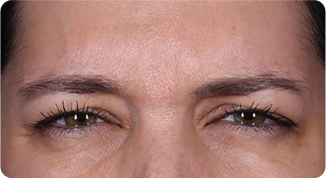 6 Months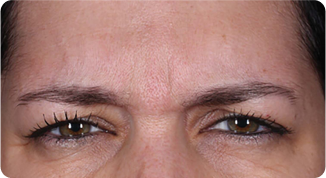 9 Months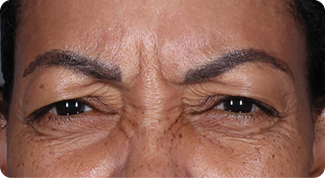 Before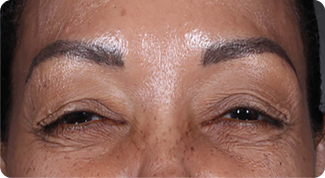 2 Weeks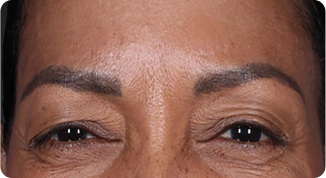 6 Months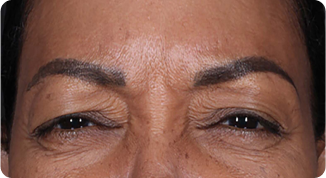 9 Months
Symptoms of Hair Loss:
Recognizing early signs of hair loss can help you get your hair's health and thickness restored faster. Keep an eye out for:
Excessive Hair Shedding
Thinning Hair
Receding Hairline
Bald Patches
Dry or Itchy Scalp
If you're experiencing symptoms of hair loss, contact Skiin and schedule an appointment with our in-house dermatologist or one of our expert technicians to determine which of our treatments may be right for you.
What causes hair loss?
Hair loss can be caused by many factors. It's important to diagnose the cause of your hair loss to ensure appropriate treatment. Common causes of hair loss include:
Androgenic Alopecia, also known as male or female pattern baldness, is the most common cause of hair loss and results from a combination of genetic hormonal factors.
Hormonal imbalances due to pregnancy, childbirth, menopause or thyroid disorders
Alopecia Areata: an autoimmune disorder in which the immune system mistakenly attacks the hair follicles and results in patchy or complete hair loss
Telogen Effluvium, which occurs when a significant number of hair follicles enter the resting phase (telogen) prematurely due to outside factors (extreme stress, major surgery, significant weight loss, etc).
Scalp infections, scalp psoriasis or underlying systemic diseases
Medications and treatments including chemotherapy drugs, anticoagulants, antidepressants and certain blood pressure medications
Tips to Reduce Hair Loss
Easy steps you can take to keep your existing hair healthy at home:
Eat a healthy diet full of green vegetables, healthy fats and iron. Sudden hair loss can be a sign your body isn't getting enough nutrients. Foods like fish and nuts are packed with healthy fats and Omega-3s to strengthen your hair.
Scalp massages can be an effective way to stimulate blood circulation to your hair follicles and encourage growth.
Massage your scalp gently using circular motions with your fingertips for a few minutes daily to increase circulation.
Essential Oils such as rosemary, peppermint and lavender oils are believed to have beneficial effects on hair growth. Patch-test first, then try adding a few drops to a gentle carrier oil and massaging them into your scalp.
Alternative Hair Loss Treatment Options

Hair Loss Treatments for Men
Finasteride: a prescription medication that slows the effects of male-pattern baldness by interfering with the conversion of testosterone to dihydrotestosterone
Minoxidil: an over-the-counter topical solution applied to the scalp to stimulate hair follicles
Low-Level Laser Therapy: a non-invasive treatment using low-power lasers to stimulate hair follicles and promote hair growth

Hair Loss Treatments for Women
Minoxidil: the only FDA-approved medication for female pattern hair loss- applied directly to the scalp to slow hair loss and promote regrowth
Prescription medications such as spironolactone and anti-androgenic oral contraceptives may be prescribed to women to help regulate hormonal imbalances that contribute to hair thinning.
Low-Level Laser Therapy: a non-invasive treatment using low-power lasers to stimulate hair follicles and promote hair growth
Our dedicated team at Skiin is ready to help you get your confidence back with strong, healthy hair. Call or book online today!
Why choose Skiin?
Follows all CDC guidelines being committed to your safety
Most experienced skin health experts in the industry
Committed to continuous education with some of the worlds finest doctors
Recipient of Medical Aesthetics magazine as the best loyalty program
Board-certified plastic surgeon on-premise