Real Hydrafacial Results

Free Yourself From Aging Skin Around Your Eyes
Crow's feet, sagging skin and droopy eyelids… who said aging skin around the eyes is just a part of life? You don't have to settle for looking old and tired with wrinkly skin. Let your beauty shine! Skiin talks treatments, causes, symptoms and at-home solutions for fine lines and wrinkles.
Treatments for Aging Skin Around the Eyes
At Skiin Anti-Aging Lounge, we want you to love the look, feel and glow of your skin. Whether you're searching for treatments to prevent, manage or correct skin aging, you've come to the right place. We offer professional treatments for all your skin goals, including anti-aging eye treatments.
Botox
Juvederm
Radiesse
THERMIsmooth
Volume Lift
Oxygen Infusion Therapy with 3-Step Hyaluronic Layering
Platelet-rich plasma (PRP)
RHA Filler
Restylane
RHA
Photorejuvenation
CO2 Laser Resurfacing
Microdermabrasion
Hydrafacials
Chemical skin peels
Dermaplaning
Microneedling
We believe empowerment through education is vital to your overall health and well-being. At Skiin, we provide you with thorough education during every step of your treatment to give you choices, increased confidence and incredible results. We invite you to meet our highly-qualified team of professionals. At Skiin, you're in great hands. an Anti-Wrinkle Botox Competitor
The FDA has approved Daxxify by Revance, a new injectable medicine for smoothing facial wrinkles in adults. Daxxify is in the same class of medicines as Botox, Dysport, Xeomin, and Jeuveau, but may be more effective in reducing wrinkles for longer periods of time. In clinical trials, 80% of participants had little or no visible facial wrinkles after four months of using Daxxify, and half still had little evidence of wrinkles after six months. Dermatologists believe Daxxify will change the market for neuromodulators.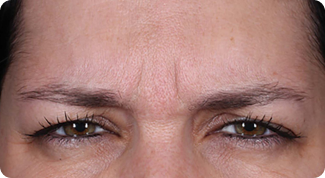 Before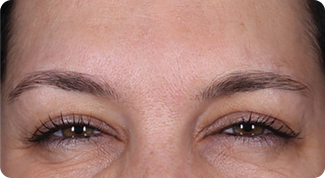 2 Weeks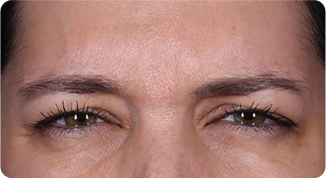 6 Months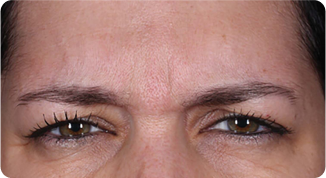 9 Months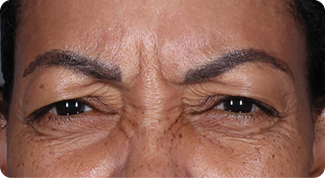 Before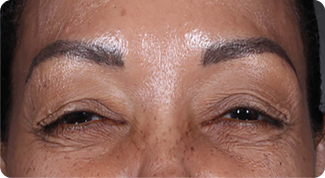 2 Weeks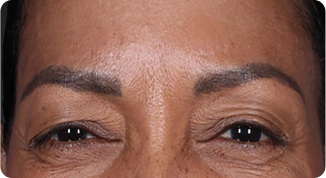 6 Months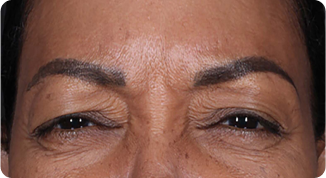 9 Months
What Causes Fine Lines, Wrinkles and Aging Skin Around the Eyes?
The skin on your eyelids and around your eyes is the thinnest, most delicate skin on your face. The breakdown of collagen and elastin and the slowed production of protein in your eye area, along with the consequences of repeated movements like smiling, frowning and squinting all impact the appearance of your eyes over time. Other contributors to an aged appearance include:
Unhealthy diet and poor nutrition
Poor use of sun protection
History of tanning
Smoking
Genetics
Though prevention is the preferred form of treatment for fine lines and wrinkles there are ways you can decrease the appearance of fine lines and wrinkles around your eye area at home in addition to our clinically proven treatments.
How to Get Rid of Eye Wrinkles at Home
Here are 5 at-home tips to keep the delicate skin around your eye area healthy and diminish the appearance of crow's feet, fine lines and wrinkles:
Hydrate! Keeping your eye area hydrated with a rich moisturizer and keeping your body hydrated with plenty of high-quality water is critical to diminishing the appearance of fine lines. Look for an eye cream with retinol or hyaluronic acid.
Love your skin with oils! Sealing in the moisture from your eye cream with a small amount of facial oil provides an extra barrier from dryness and environmental stressors. A little goes a long way to give your eye area a subtle youthful glow.
Eat a healthy diet packed with greens, healthy fats and polyphenols found in sources like pomegranates and green tea. Cut out sugar & soda and watch your caffeine intake. Sugar breaks down the cells in our bodies and excessive caffeine is dehydrating.
Avoid alcohol - it dehydrates the skin and makes wrinkles and dullness appear more pronounced.
Wear sunglasses. Even better if your sunglasses wrap around or cover the sides of your eyes!
Taking the right measures for your age, lifestyle and skin type is critical to successful wrinkle prevention and reduction. Talk with your pharmacist or dermatologist before using over-the-counter retinol and be sure to consult with your dermatologist about safe anti-aging products if you are pregnant or breastfeeding.
Skiin is proud to offer a range of advanced anti-aging and dermatology services. We are here to answer your questions and provide proven, visible solutions to your skin concerns. Contact us today to reclaim your soft, youthful skin!
Why choose Skiin?
Follows all CDC guidelines being committed to your safety
Most experienced skin health experts in the industry
Committed to continuous education with some of the worlds finest doctors
Recipient of Medical Aesthetics magazine as the best loyalty program
Board-certified plastic surgeon on-premise